Girl Nation Scholarship
A Girl Nation Scholarship program is available to girls in financial need who want to attend a GN class but don't have the financial means. Please email us for more information.
The Birthday Bunch Bash at The Shade Tree Shelter
Shade Tree is the largest shelter of its kind in the state of Nevada and is the only 24-hour accessible shelter designed specifically to meet the needs of homeless and abused women and children in Southern Nevada. On average, 33% of the clients are children under the age of 18.
The Birthday Bunch is an important part of Girl Nation's community outreach program where we sponsor birthday parties throughout the year. The last weekend of every month, Shade Tree recognizes the children currently living at the shelter who have a birthday that particular month and celebrates their birthdays by including them in the Birthday Bunch. The mission of the Birthday Bunch is to make each and every child living at the shelter feel special on or around their birthday. Not only do we honor the kids, but we also include the mothers and siblings of the birthday children in the fun. The Girl Nation girls help decorate the room, bring gifts for all the kids, and set-up different games to make it a special day. Lunch and cake are provided for the families. This is a great event for all involved.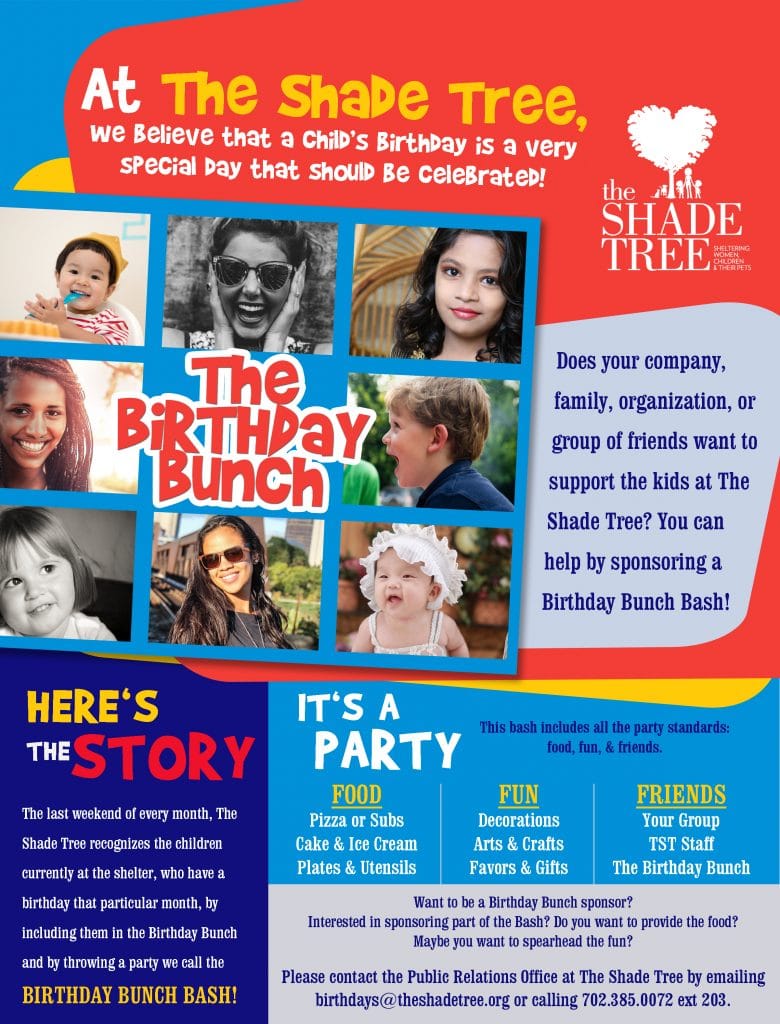 Refuge for Women
100% of the proceeds from our Mother Daughter Yoga Classes have gone to Refuge for Women.
Refuge for Women is a non-profit, faith based organization that provides long-term care for women who have escaped human trafficking or sexual exploitation. Refuge for Women offers safe housing with 24-hour-a-day staffing. The program is designed, and staff trained, to help residents recognize their goals in life, and to assist them in reaching those goals, and facilitate healing. Human Trafficking is a dark industry that abuses and exploits women of all ages. When a woman is rescued from a trafficker, she is left with many years of past trauma and oftentimes, substance abuse issues.
Child Haven
Child Haven is truly a haven for temporarily displaced children. It provides extraordinary care for hundreds of high-risk children every year. Children who are removed from their homes due to suspected abuse or neglect come directly to the emergency reception center at Child Haven. In the case where there is no suitable temporary living situation for these children, they are admitted to Child Haven. Thankfully they dictate that siblings remain together and the state's goal is to eventually reunify the children with their families. Upon arrival, each child is provided with a backpack containing age-appropriate clothing, basic toiletries, and supplies necessary for school. Girl Nation girls put together special Valentine bags for the at-risk girls living at Child Haven to remind them that they are special and loved.